Providing end-of-life care and bereavement care with distinction
Serving Middlesex, Monmouth and the surrounding counties in Central Jersey
Dr Smith's work through Journeys to Peace touches hearts. Here are the reflections families wanted to share about their Journeys.
To share your thoughts, please submit them here.
"Dr Smith was very caring, patient, and compassionate as she helped us say goodbye to our precious boy George. She was without a doubt the right choice for this difficult time." Jennifer and Matt H.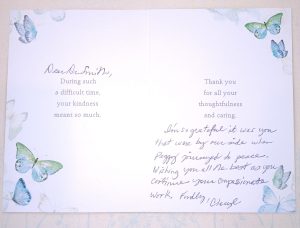 "Dr. Smith is a beautiful person with a beautiful soul… she knew how hard it was for our family to make this decision… having our dog surrounded by her family was such a blessing to us… She ate her last cupcake and went peacefully… Dr. Smith was amazing." Laura L.
"We recently made the difficult decision to let our beloved dog, Daisy, go after more than 15 years of love, cuddles and so many, many kisses. After Daisy was diagnosed with Cognitive Dementia over a year ago, I reached out to Dr. Smith for guidance. She has been an incredible partner throughout this journey and has provided us with support, advice and a great deal of patience and kindness. Dr. Smith helped us to preserve Daisy's dignity, and enabled us to give our sweet girl a peaceful and meaningful passing. No one wants to make this excruciating decision, but when the time comes, I can't think of anyone that I would rather have by my side than Dr. Smith." Judy K.
"The only way it was going to be possible for us to provide a dignified and peaceful journey for our sweet boy was at home and with someone that was willing to understand all that was needed to make this most impossible moment possible.  Dr. Smith was so perfect, as soon as I met her outside to discuss the process, I said, you are perfect for my boy – you won't make him nervous or upset.  I knew that, because I knew him, I knew him for 13 years.  My husband and I rescued Laird when he was 7 months old, he was afraid of humans for the most part so all we did was show him so much love and kept him safe from whatever worried him – what an amazing and joyous life we had with him, he made us better humans.  And for that, we made sure his last moments were calm, peaceful and surrounded by so much love you could feel it in the room.  Thank you for his journey to peace Dr. Smith.  We will never forget you." Trish + Mike (parents of the best dog ever, Laird Champ S. Sept 2009 – Sept 2022). 
"Dr Smith was very caring and compassionate during one of the most difficult decisions we had to make for our beloved Roxie. We're thankful that we were able to say goodbye to Roxie in our home in a very peaceful manner. Thank you Dr Smith for making this process a little bit easier." Chris M.
"Dr Smith made saying goodbye and putting our loving family dog Bella to rest better. Having her come to my home made the experience special and comforting for Bella in her last moments. I knew it wasn't an easy process but being at home, it was right where I know Bella would have wanted to be. Thank you sooo very much for the work and comfort you bring to the animals and families." Nicole C.
"Dear Dr Smith
Thank u from the bottom of my heart for all the care and consideration and heartfelt way u helped my Sammy who was ready to go but needed a little help from you. U came to my house when u said u would and called often to let me know u were on ur way and coordinated everything with Pet Meadow for cremation. I am crying as I write to u about Sammy and thank God there are Vets like u who really care.
Thank u" Dolores H.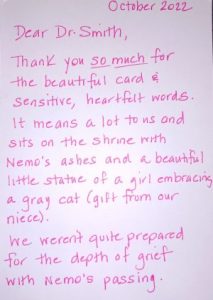 "Our family had to put to sleep our dog Lucy of 17 years. Dr. Smith came to our home to assist in Lucy's passing and Dr. Smith's services are a blessing. She is informative, professional and extremely compassionate. I would recommend her to any family should you need her services. Thank you." Jeff S.
"This has taken me months to write….Dr. Smith was truly amazing in our time of need. My precious baby was almost 15 and we knew her time was approaching. Dr. Smith came in and spoke with us and helped my old lady cross the rainbow bridge – she was professional, caring, informative and most of all respectful of the bond we shared. I highly recommend her services and would never use a standard veterinarian again! Thank you very much for being there for us in our time of need." 

  Kara M.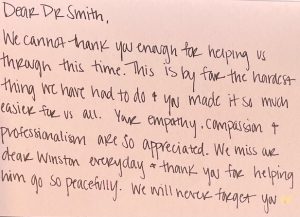 "Thanks so much for helping Lola go to her final resting place. Being at our home and in our arms when Lola took her last breath was the way we wanted her to be treated. Thank you" Nancy H.
"I cannot fully express our gratitude. Dr. Smith provided our family with the peaceful, painless, and loving closure we needed for our almost 12-year-old Golden, Albie. Dr. Smith spoke at length by phone two weeks beforehand, helping us process what we were facing (a fast growing tumor). She offered ideas for how our young children could start to say goodbye and signs that the time might be near. Because of Dr. Smith, we were able to see when it was time to call her to our home and we spent the day before our appointment as a family, loving Albie and giving him everything he could ever want. This also allowed our other Golden, a ten-year-old, to be near Albie and process his own ending. Giving Albie this moment in the sunshine in his own backyard with our other dog nearby (and kids at grandparents') was the last gift we could give him, and Dr. Smith made that possible with absolute kindness and care. No urgent trips to a vets office in a crisis as we had done before for our pets. Don't hesitate to call Dr. Smith, though I'm sorry you're faced with such a decision." Katie S.
"It's been about year since we've had to put our pitbull Tyson down. You could never prepare for when the day comes but the services Dr. Smith provided made things a little easier for us. She went out of her way to fit us into her schedule the same day we requested her services. She was informative while also being sensitive to the topic. Her bedside manner was incredible. She was very patient and empathetic. Our family is forever grateful to Dr. Smith for allowing our boy's final moments to be so special in the comfort of our own home. We never expected to have such wonderful guidance during such a difficult moment in our lives. I highly recommend the services that Dr. Smith provides. Thank you, from the M. family." Luis M.
"Thank you Dr. Smith for the compassion and kindness you showed to me, Megan, and especially my beautiful Stella as Stella crossed the Rainbow Bridge. Having Stella transition in the comfort of her home where she was so loved and made so many wonderful memories meant the world to us! I could see Stella was at full peace and as difficult a decision it was it was the kindest, and the last loving decision I could have done for Stella! She was that special! I will miss her terribly but she left me with 9 years of memories and unconditional love! I love you Stella!!! and Thank you Dr. Smith…you are an Angel. God bless….." Nancy A. 
"Dr Smith was supportive, understanding, and professional during the difficult time of having to say goodbye to our treasured beagle! She made the experience as peaceful and respectful as it could possibly be. I highly recommend her." Melissa P.
"Our family is grateful for the respectful and compassionate end-of-life service that Dr Smith provided for our beloved Linus." Michele P.
"Dr Smith was compassionate, calming for both our Reggie and us and so very helpful. We just lost our younger lab, Dexter, and had to make a sudden decision at the vet and I would have given the world to have given him the same peace as Dr Smith gave our older lab. I would highly recommend this wonderful doctor to help you and your beloved pet to get through this incredibly difficult period."  Jody C.
"Dr Smith is amazing. Yesterday was a sad day for our family. We had to say goodbye to our beautiful dog. Dr Smith was kind and compassionate and made it so easy for us every step of the way. Thank you Dr Smith for taking care of our Maggie. God bless you." Patricia N.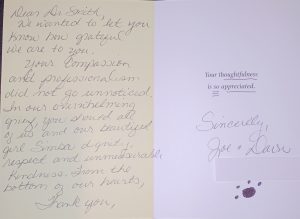 "Dr Smith was our saving grace during a most difficult time. We had to make the decision to put our beautiful 13 1/2 year old lab "Simba" to sleep. Dr Smith was so compassionate and treated our angel with dignity and respect. We would not hesitate to recommend her to your family and your beloved pet." Dawn E.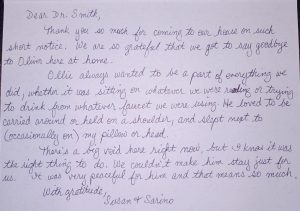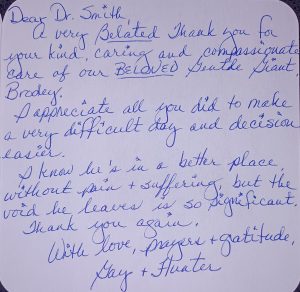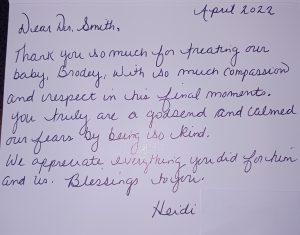 Two lovely cards from Brodey's family
"Dr Smith's compassion and caring made this difficult time a peaceful event. When the time comes that you have to make this decision for your loved pet, I highly recommend Dr Smith." Joe P.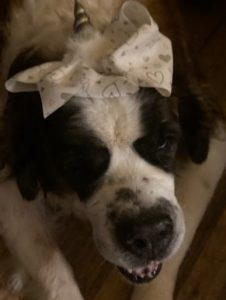 "Dr Smith was such a blessing to our family. Her warmth and gentle, competent manner allowed us to give our beloved Harley a peaceful and graceful transition from this life to the next. Losing a family member is incredibly hard. From our first conversation, Dr Smith helped to ease that burden. I cannot say enough about how grateful we are to her." The T. Family
"I could not speak more highly of Dr Robyn Smith from Journeys to Peace. She was so patient and understanding as we made the very difficult decision for our beloved dog, Olive. She was so responsive and supportive as we asked her many questions. She communicated frequently before our appointment to ensure that we were comfortable. Because of Dr Smith, Olive was able to leave this world in the comfort of her own backyard with dignity and grace." Jaime K.
"We publicly want to thank Dr Smith for her care for our kitty who was very ill. We appreciated her gentleness, kindness, and compassion which made this wrenching event easier. We both recognized that Dr Smith has a gift for end-of-life given with dignity and respect. We know our dear kitty is at peace. We are very grateful to Dr Smith and highly recommend her services." The B. Family
"What a blessing Dr Smith was to us at such a difficult time. We were out of town and had my in-laws staying with our 14 year old puppy Freckles when he just went downhill in a matter of 2 days! We spoke with Dr Smith and she went to our home later that same day and so kindly and peacefully helped our beloved dog cross over the Rainbow Bridge. My in-laws could not say enough kind words about Dr Smith and how she handled the situation and even when they forgot to take off his nameplate, Dr Smith kept it for us and delivered it to our home. She is so very kind and she made a terrible situation more bearable by being so. We are forever grateful." The B. Family