Providing end-of-life care and bereavement care with distinction
Serving Middlesex, Monmouth and the surrounding counties in Central Jersey
Dr Smith's work through Journeys to Peace touches hearts. Here are the reflections families wanted to share about their Journeys.
To share your thoughts, please submit them here.
"Dr Smith was wonderful from the moment she walked into the door to the moment she left. We talked, she listened as we rambled about our boy Tuni. We shared silly quirks of his along with his likes and dislikes. Dr Smith listened like a friend with a warm heart. There was no rushing to do what needed to be done. She then explained the process and helped us to accept with the fact we made the right decision at the right time even though it was the hardest decision we had to make. We highly recommend Dr Smith." Thomas & Nour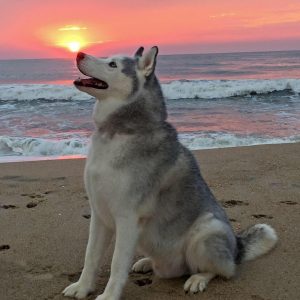 "Thank you for being there for us and Rocky. You were truly a blessing and gave us the best experience possible. We are forever grateful for the peaceful send off we gave Rocky and know he was so comfortable having you around. Thank you from the bottom of our hearts." Dina and James F.
"I am so grateful for reaching out to Dr. Smith in our time of need. Her response was prompt, supportive and informative. I never knew there were home services for end of life care for pets. It certainly was the best option for myself and my family. Dr. Smith's approach was not only kind but reassuring and validating especially when I was unsure if this was the right thing to do. Despite our mourning, I feel a sense of relief that my Cheerio had the support and love surrounding him during his peaceful transition to his next journey. Thank you Dr. Smith. You were such a gracious presence in my home and I will always remember with peace in my heart. Thank you." The P. Family
"Dr Smith was wonderful. It was one of the worst days of my life, and she was so understanding, and never made us feel rushed. She was so gentle with our sweet Juno, and Juno wasn't frightened. That meant everything to me." Pam C.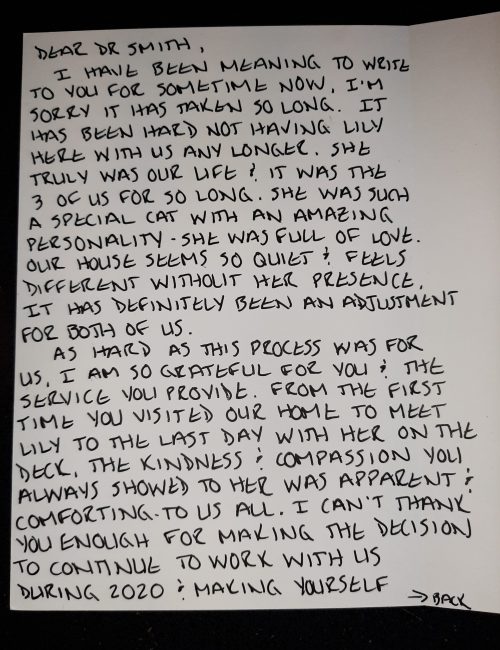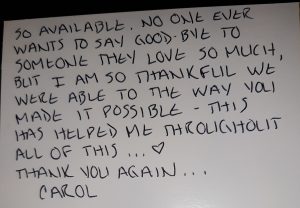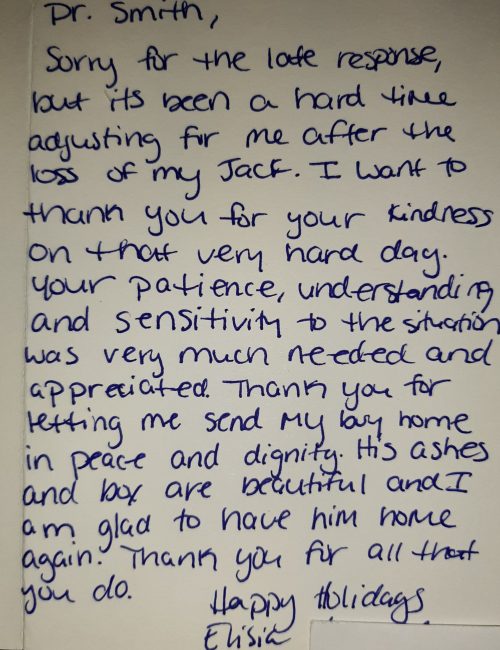 "I want to thank you for taking care of sweet Ricky and the S. family. Mrs. S. said you were wonderful and she highly recommended you. They are such a sweet family and I am glad he was able to pass peacefully at home." Dr. M. (Ricky's primary veterinarian)
"We want to thank you again for the gracious and compassionate care you provided Lucy and our family during her final hours. Your services gave us exactly the kind of peaceful passing we wanted her to experience, and we are so grateful. I meant a lot to us that Lucy was able to spend her last hours in the comfort of her own home with her family instead of in an unfamiliar pet hospital with strange staff. Especially now during Covid, we appreciate the extra precautions you're forced to take to continue to offer this important service to already distressed families and their pets. We cannot begin to express the level of gratitude we have for you." Andrea & Ryan C.
"We cannot thank Dr. Smith enough for her kind and compassionate care for our beloved Pippin. But more importantly, her understanding of our needs as a family for our puppy DayZ to make peace with Pippin's passing was admirable. She made a very difficult time comfortable for all." T and Jay B.
"We cannot thank you enough for your kind and compassionate care you gave to Leo as well as to us. You created a peaceful transition for us all as Leo made his way." Trudy C.
"We were taken by surprise by how our 10-yr old pittie, Tara, stopped walking within 1 week. We knew that day would come but not as quickly as it did. Despite the short notice and COVID limitations, we were so grateful for Dr. Smith. She was able to accommodate our urgent need to see our girl pass on peacefully at home.
Thank you Dr. Smith for your compassion and understanding, for keeping it light-hearted, for explaining the process even though our hearts were aching, and for welcoming our other senior dog, Tasia, to say good-bye to her adopted sister.
It might be the hardest decision to make, but it does bring peace to them and us to know that they crossed over the bridge surrounded by our love and in the caring hands of Dr. Smith. Thank you again!" Nadia and Jeff H.
"I wanted to thank you for your kindness by sending us a card and the charm. It really meant a lot. Thank you for everything. I couldn't have asked for a more sensitive and kind person to help me say good-bye to Miss Shady. Stay well & thank you again."
Caroline O.
"Our beloved family dog recently received a diagnosis in which the veterinarian suggested that he be put to rest, as his condition was advanced to the point that he could pass at any moment. It came as a shock to us and we were extremely distraught and the fear of him passing at the vet's office in a state of panic did not sit well with our family. We decided to reach out to a number of mobile veterinary services, but none could accommodate us until later the following week. We were finally referred to Dr. Smith who, even though it was an hour and a half away from her typical work territory, stated that she could accommodate our wishes. She arrived and carefully explained the process. She was gentle and he went calmly to sleep. As many know, losing a pet is always a difficult experience, but she exhibited compassion and professionalism throughout the process. We miss our Abner, but we feel very fortunate to have let him go in the comfort of his home and surrounded by his loved ones. We are thankful to have found Dr. Smith." Katie A.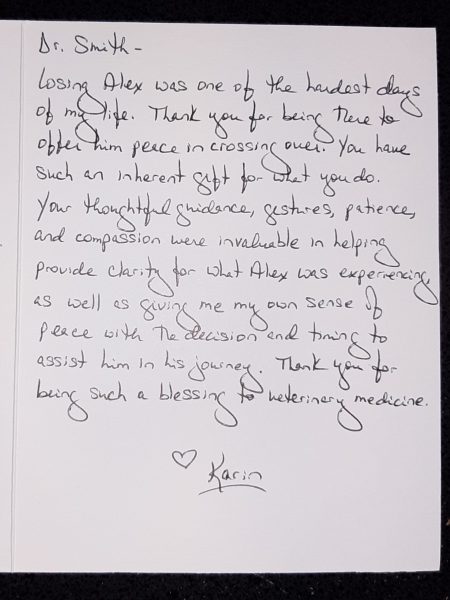 "We cannot thank Dr Smith enough for her total support, caring nature and understanding. You made our beautiful German Shepherd Lexie's last minutes on this earth so calming, and peaceful. We hugged Lexie and told her how much we loved her as she was passing over the rainbow bridge; she also kissed us back as she gracefully made the final step over. The total experience although heartbreaking was something I will never forget as Dr Smith was so caring with us and Lexie ensuring we understood what would happen and when. I have no hesitation to recommend to anyone that loves their darling pets and has to make this heartbreaking choice to euthanize them…. Dr Smith will ensure the most dignified, peaceful journey to heaven.
Thank you with all our hearts." C. Family
"When our family had to make a decision for end of life care for our cat, Gemma, we were already acquainted with Dr. Smith as she has provided home veterinary care for our cats for several years. She is a phenomenal veterinarian and the difficult but so important work she is now doing is a perfect fit. I encourage anyone who has a failing pet to reach out for Dr. Smith. While Gemma is gone, her passing was comfortable and loving and it was such a relief that Dr. Smith was able to guide our family through this experience. Words are truly insufficient to express our gratitude." Alice L.
"Thank you so much for making possible a peaceful death for Orlando. Your home service is a blessing even with the awkwardness of social distancing. Euthanasia of a cat at the vet is better than letting the cat die in pain but far less than optimum. Orlando hated riding to the vet and he hated to be around strangers. Knowing you would be available the next day, we were able to take Orlando home [from the hospital], hang out together on the sofa for the evening and sleep together. Morning and evening he had a plate of boiled shrimp, his favorite food. When you arrived, he was too sedated to be upset. We and the other cats were able to come to terms with his death with his body present over the course of the afternoon. At the end of the day we buried Orlando beside his two best friends. Thank you so much and stay well." Melinda M.
"Doc, 
I want to thank you for making Buddy's passing a peaceful experience. Although we miss him dearly and still mourn his loss, I know he is in a beautiful place with his girlfriend Sadie waiting for us. You gave him a beautiful send off to that place.
We are eternally grateful for your services. Thank you." 
The C. Family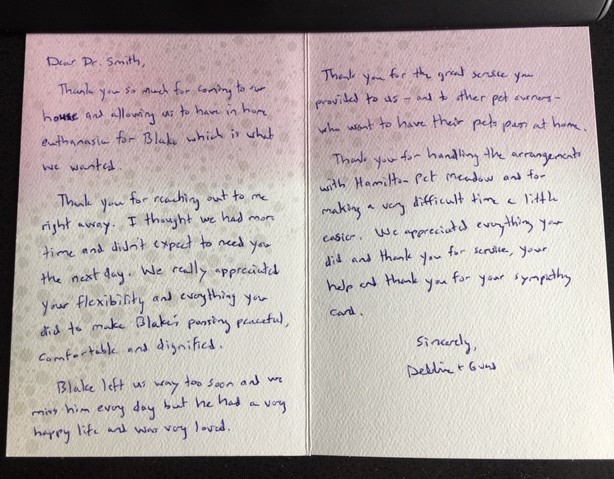 "Dear Dr Smith, Bob and I want to thank you for your compassion and guidance through this heartbreaking time. Zeus was very very special to us, we loved him dearly but we take solace in knowing that we made the right choice at the right time… you helped us through that decision and you were always available when we needed you and for that we will always be appreciative. Thank you for being so kind to us and gentle to our beautiful Zeus." Liz & Bob C.
"Dr Smith, I am so thankful that you came to my home and helped us with our beloved Max. You were so gentle and caring, you made me feel more comfortable about this very hard decision. Max is in a better place where her feels no pain and can jump and run again. We will see him again at the rainbow bridge!" Marion E.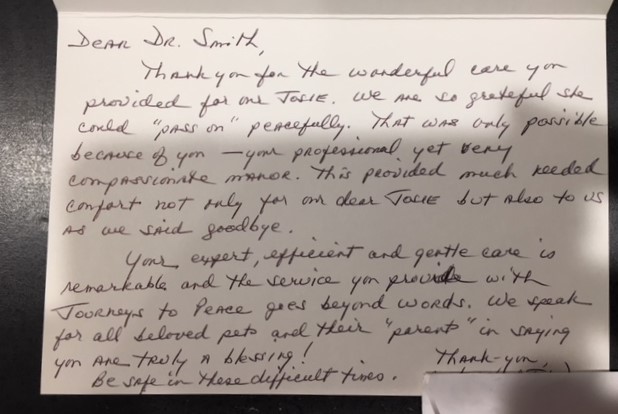 "Dr. Smith was nothing short of amazing on our sweet Boy's last evening. Dr. Smith helped our Kona pass so peacefully, full of compassion, understanding and sensitivity. We cannot recommend this incredible and attentive service enough." Kim & Jaede B. 
"There are so many fears with the decision to say good-bye to your best friend. I wasn't expecting "the day" to be her last day. But I woke up that morning and I knew by looking at her, it was time. They say you just know. After months in and out of the hospital the last thing I wanted to do was take her back to that cold place where she had only known sickness… I didn't want to take her there during her final hours. I opted for an in-home goodbye. At home my girl was safe snuggled in my arms, in our special spot, in the home she had known and been loved in. She went in peace.
Regardless of how long I knew she was sick – this still was a last minute decision and I was panicked – would I find someone to come to my home last minute on a Friday night? Would that person be qualified the way I needed them to be for her? Dr. Smith was recommended by someone close to me and I trusted that source. It was SO important that I didn't just google someone, but that I knew they would be kind to both my girl and my family – as well as knowing what they are doing to ensure she crossed that rainbow bridge peacefully. My girl deserved that. All our furbabies do.
This review, is SOOO important, because in our darkest hours we welcomed a stranger into our home to leave with our baby. Dr. Smith was loving, kind, respectful, knowledgeable and most importantly qualified – she did everything right for our girl to go peacefully. I hope those who are reading this know how the worst decision in our lives was done by someone as wonderful as Dr. Smith.
I can't thank Dr. Smith enough for all the ways and continued support she gave days after." Hali R.
"Thank you again for helping Erica and myself during one of the most trying times of our young lives. Lilly has been our baby girl since the day we rescued her 7 years ago.. You helped provide her a comfortable send off in her own home, in her own bed looking out her favorite window as we said goodbye together. For this, I cannot thank you enough. It helped ease both of us knowing she wasn't nervous, scared or stressed since she was at home with her family until the very end." Brendan C.
"I was introduced to Dr. Smith in 2015 when I adopted a hospice care FeLV+ kitten and needed in home veterinary services.
As an adopter of special needs/hospice care cats and dogs, it is my priority to have a competent, dedicated and devoted vet to call on for solid, honest advice.
I cannot think of a more qualified and compassionate person to fill this role.
I trust Robyn, without reservation, both professionally and personally. Her veterinary skills are superior. If you're looking for the perfect vet, especially for end of life care, Dr. Robyn Smith is the answer." Karen L.