Providing end-of-life care and bereavement care with distinction
Serving Middlesex, Monmouth and the surrounding counties in Central Jersey
Dr Smith's work through Journeys to Peace touches hearts. Here are the reflections families wanted to share about their Journeys.
To share your thoughts, please submit them here.
"We made the very tough decision of giving our beloved Saint Bernard, Kaia, an end to her pain, after fighting so hard. Dr. Robyn Smith was referred to us to perform this service. We were told that there was nobody that could perform this service, with the love and empathy, that our family needed so desperately, as she could. Love and empathy were an understatement. Dr. Robyn not only gave that to us, but gave us peace of mind, reassurance, explanation. She showed us an amount of compassion that we simply did not expect from a stranger.
For us, this is like losing our child and for our children, a sibling. Our three children, ages 12 through 20, all expressed over and over, afterward, that we could not have had a better person fit our family's needs on that very hard day.
We have two other dogs, and she even advised us on how to handle the situation with them so that they could be at peace with what was happening because it was a loss for them as well. This was not a quick in and out, she took the time for all of us. To us, it seemed, in those moments, that Dr. Robyn was part of our grieving family. This is not her job, this is her calling and we are grateful that we chose her. Thank you, Dr. Robyn, you are a special soul." Donna D-S.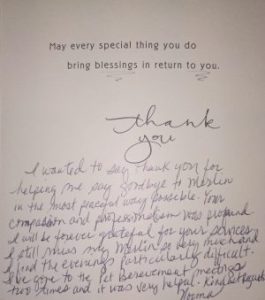 "As with most people, this decision is one of the hardest and most heartbreaking you will ever have to make. I dreaded the day we even had to look up this service online. A quick google search for my area turned up Doctor Smith and Journeys to Peace. She was the first person to call and text me back and I could tell she knew we were in a world of pain. She was an hour away but got to our house as fast as possible. Her kind soul really helped us through this unimaginable time. I can tell our boy felt truly safe with her and she really helped us get through it. I couldn't picture using anyone else for my boy's final moments. Doctor Smith truly cared about our dog and talked us through the procedure and helped us feel that we were making the correct decision. Thank you Doctor Smith." Vincent T.
"Thank you so very much. We really don't think he could have left us under better circumstances. Knowing you were there to help us provided some comfort during this very sad time. We are ever so grateful for you." Truman's mom
"Thank you Dr Smith for your compassion and helping us to say goodbye to our beloved Rocky." Margie & Dominick D.
from the Journeys to Peace Facebook page
"We are grateful to have had the opportunity to have Dr. Smith come into our home to help us help Chloe cross over in peace. I knew from the very first phone call that I wanted her to help us because of her kindness and compassion over the phone. She wasn't available right away which was okay because we wanted more time with Chloe. She came 8.12.23 and I will never forget how my girl started pulling out her toy to play. She had never done that with anyone who came to visit. I think Chloe also felt her compassion too
. We did not feel rushed and she explained the process and made us feel comfortable through this difficult time. 

Today I came home to a heartfelt card and cried. I was just telling my husband the other day in tears how I could not remember what I was saying to my girl as she was falling asleep and how I wish I could have said more. Well Dr. Smith remembered because it's the thing I miss the most… her kisses. 

Thank you Dr. Smith for the thoughtful card.
" Jo-Ann C.
"I first learned about Journeys to Peace thru my local veterinarian. I have been a client with Oak Tree Vet/Raritan Hospital for more than 50 yrs… so I trusted their referral to Dr. Smith and Journeys to Peace.
Dr. Smith was wonderful. She was so patient with me and my on and off decision to part with my beloved pet, Mandy. Having to say "Goodbye" in the home Mandy was used to made this difficult time a little more bearable.
Dr. Smith gave us alone time to say goodbye…and seeing my girl look so peaceful is a picture that stays in my mind.
I would recommend Dr. Smith and Journeys to Peace to make this emotional time more bearable." Bobbi G.
"We knew our beloved 18 year old Shi-tzu, Dotti, was having a hard time during the last few months of her life, but we were hanging on tight before finally making the decision to say goodbye – probably the hardest thing we have ever had to do. Dr. Smith was recommended by our groomer, Begging for a Grooming, for when the time came. I called Dr. Smith and talked with her about Dotti's struggles; she was kind and compassionate, while providing guidance, expertise, and reassurances. After a steak dinner and ice cream treat, our Dotti girl left this life surrounded by her loving family, on her favorite recliner, in the arms of my daughter. Dr. Smith made the experience as good as it could have been, never rushing the process, and giving us time alone with Dotti afterward. My family and I will forever be thankful for her care and support. I would highly recommend Dr. Smith for this very difficult part of being a pet owner." Donna F.
"I reached out to Dr. Smith, after reading wonderful recommendations about her services. We knew that it would soon be time to say goodbye to Mason, our 13.5 year old lab mix. It was such a difficult decision knowing when he was ready, as there were some days that he seemed like his old self and other days we knew he was struggling. During the weeks leading up to our decision, Dr. Smith went above and beyond and patiently listened to my concerns, answered questions and offered words of support. I never felt rushed to make a decision. Once we were ready, she came to our home, and we sat in a circle around Mason's bed. She empathetically listened to our personal stories about how we loved and cherished him. He left us doing what he loved best, nibbling on a biscuit and being soothed by loving arms. Dr. Smith allowed us to give Mason a meaningful and respectful passing. It is never easy saying goodbye, but Dr. Smith provides a way to do it lovingly and with respect and dignity. I highly recommend Dr. Smith if you are in need of end of life services for your beloved pet. She is truly a special breed of veterinarian."
Joanne and Maddie L.
"On May 24,2023, I was faced with the most painful decision to let my beautiful Chihuahua, Lucy, enter eternal rest. I was referred to Dr. Smith by Oak Tree Animal Clinic. Dr. Smith was able to accommodate Lucy's needs in such a short amount of time. Within a few hours of contacting Dr. Smith, she was at my residence and provided the absolute most peaceful and dignified euthanasia to my sweet Lucy. Dr. Smith provided thorough education on the euthanasia process, after care, made sure my family was involved in the conversation, shared laughs with Lucy's Min-Pin brother, Ricky, and gave us private moments after Lucy's passing. My family and I are forever grateful for Dr. Smith. She absolutely made an extremely painful decision and day, feel like an honor as well. I highly recommend Dr. Smith to anyone that is facing this decision. Her expertise, professionalism and caring hands will always be remembered. Thank you, Dr. Smith." Liliana M.
"Dr. Smith thoughtfully walked us through the difficult journey of our beloved dog's final weeks. She was available to answer every question and put our minds at ease preparing to make the hardest decision. We are so grateful for her time, advice, and responsiveness navigating through many unknowns. We are comforted knowing Preston was in such caring, capable hands." Pam M.
"I can't say enough about Dr. Smith. She was so warm since the first phone call and made our family feel as comfortable as possible during our difficult decision. Her words didn't seem rehearsed and she took her time explaining the steps to our daughters.
We're thankful for the service that she provides and grateful for the recommendation from our friend. An extra sweet touch was her follow up card that she sent with kind words of our pet." Tanya C.
"Dr. Smith made one of the most difficult days for me and my family, the easiest it could be. Her kindness and warmth to our furry friend made saying good bye that much less painful. Having to put him in a car to go somewhere and then have to drive home without him would have been terrible for us. This was so much better for our entire family. We sat in the backyard on a blanket and said good bye in a beautiful setting – a setting he loved, and felt comfortable. Dr. Smith was extremely respectful of our needs and I could not recommend her more." Lisa J.
"Saying goodbye to my fur baby was the hardest thing I ever had to do. In December 2022 I unexpectedly found out my sweet little girl Marshmallow was sick and in February 2023 I unfortunately had to say goodbye. Dr. Smith was beyond helpful, Marshmallow was my first dog and this was the first time I ever had to make this decision. Dr. Smith listened to all my concerns, she answered every question, she was so caring. The day I had to say goodbye to Marshmallow, Dr. Smith walked me through every step, I did not feel rushed during the process, she not only made sure that Marshmallow was comfortable but she took the time to make sure Marshmallow's sisters were okay as well. Marshmallow was able to pass peacefully in her home surrounded by her sisters and family thanks to Dr. Smith. Words truly cannot express how kind, compassionate and sincere Dr. Smith is, I am forever grateful for her and making such a difficult time a little bit easier. Dr. Smith also wrote such a sweet sympathy card when Marshmallow was returned back home. Thank you so much Dr. Smith!" Jenna P.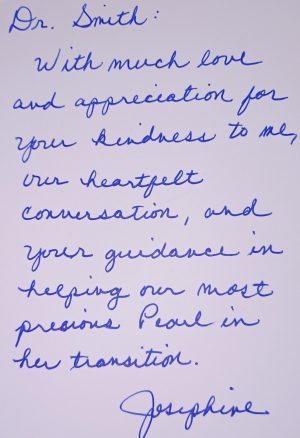 "Over a year ago my 12 year old dog George was diagnosed with a splenic mass. That evening I reached out to Dr. Smith on the recommendation of a friend as the prognosis was dire. She responded almost immediately to answer my questions and made herself available for the next 13 months (my boy was not ready to go!) to support my husband, my pup and me through this journey.
Yesterday morning we said goodbye to George and I will never be able to thank Dr. Smith enough for the comfort she provided George and us as he passed.
My beautiful boy crossed the rainbow bridge in his bed at home with his family….little sister included, at his side, snuggling him.
Dr. Smith is knowledgeable, empathetic and loving. She supports and advises a family when they have to make the hardest decision they may ever have to make. My heart is broken but I am so grateful that we were able to give our sweet George a peaceful passing. Thank you Dr. Smith. 

" Beth T.
"Dr Smith is absolutely compassionate in caring for your loved ones in need.
We had an emergency on a weekend and Dr Smith was the only one who would come. She was wonderful.
Thank you for giving us peace with saying goodbye to our Rocky." Lucia I.
"Dr. Smith,
My family and I don't really know how to put our appreciation for you into words. We can't thank you enough for helping to make this incredibly difficult goodbye so peaceful. The care and compassion you showed Meeko and my family will never be forgotten and forever appreciated. It takes a special kind of person to provide this service and you were more than we could have hoped for. Meeko will always be loved and remembered. We thank you so much for giving him the most peaceful and dignified goodbye. We are forever grateful to you." Tracy T.
"We said goodbye to my best friend Tucker on March 14, 2023. Dr. Smith made sure he was comfortable and we had time to say goodbye in our own way. She sat and listened to our stories about how we met him and our time with him. I never felt rushed or hurried. I appreciate all the time she took to just sit and listen. Even before the day she came to our house, Dr. Smith spent a long time on the phone with me answering all my questions and helping me address Tucker's needs." Eric S.
"In a very difficult time Dr. Smith was extremely professional and comforting. Not only to my wife and I but also to our Bella. I would like to thank her and highly recommend her services." Thomas B.
"Dr. Smith was so calming and soothing and very respectful and aware of the grief and loss we were dealing with. The services she provided were exactly what we wanted for our GOODEST BOY SCOUT. He was calm and comfortable and she walked us through every step. Her tone and demeanor helped us realize we were doing the right thing. There's no better gift we could have given Scout during his last days. Right at home, in his favorite place, with his favorite people. Rest easy Scouty. Thank you Dr. Smith."  Erica W.
"This was one of the hardest things my family and I have ever went through. Our precious girl was suffering. Dr. Smith was loving and very compassionate with our girl as she crossed over. This service was private and respectful. Thank so much Dr. Smith for everything and the beautiful card." Beverly P.
"Dear Robyn: you are an angel. Thank you for making our Catie's journey to God's hands peaceful. She is now not going to be in any pain and yes, our hearts are broken, but thanks to you we know our girl is running around heaven with a yellow tennis ball in her mouth. GOD BLESS YOU AND THE WORK YOU DO."
Carole and Bill P.
"Dr. Smith was such an amazing person to have in the last moments of Berkley's life. She has such a calming presence and you can tell she truly values the service she offers to grieving families. I couldn't have wished for a more calming, peaceful transition for our 13.5 year old lab. Berkley gave us the world and Dr. Smith provided such a dignified passing for her. She passed in her home, on her couch, with her kitty siblings and family around her." Hunter I.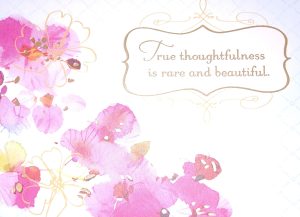 "Dear Dr Smith, Thank you so much for helping me allow Ling Ling to pass comfortably at home in her favorite spot. She took a piece of my heart when she left and I miss her tremendously, but I take a bit of solace in her graceful exit. Thank you for the beautiful and thoughtful card. Your kindness means a great deal to me. I agree that LL's sunbeam was a bit magical. I am deeply grateful for the work you do. Warmest regards…"   Jennifer B.
"Dr Smith was amazing!
I'm so happy to have found her and wouldn't have been happy with anything less. To be able to have my Jilly (cocker spaniel) home on her bed surrounded by us as she took her last breath.
She sat with us on the floor and listened to my stories as I went on and on about my girl. She was gentle and soft spoken. A sympathy card was received in the mail with her condolences.
Wouldn't have wanted it any other way!
Thank you so much

" The G. Family
"It's been over 6 months since we made the difficult decision to call Dr. Smith to help our beloved Eddie journey to peace. We were devastated by the loss of our Eddie Bear to cancer 2 days before his 14th birthday. He was the absolute sweetest cat with the kindest eyes. Dr. Smith not only showed us kindness and compassion during the process but she also made sure Eddie's brother Crash was comfortable too before we all said goodbye. I could not have imagined a more peaceful, loving setting thanks to Dr. Smith. She's an angel on earth that helped guide us through a heart breaking moment. Dr. Smith, we truly appreciate all you have done for our family." Donna, Bill & Crash
"Robyn has done a remarkable job. She's very comforting and respectful. She made Roxy's journey a beautiful, peaceful one." Rob T.