Providing end-of-life care and bereavement care with distinction
Serving Middlesex, Monmouth and the surrounding counties in Central Jersey
Dr Smith's work through Journeys to Peace touches hearts. Here are the reflections families wanted to share about their Journeys.
To share your thoughts, please submit them here.
"Dr Smith is amazing. Yesterday was a sad day for our family. We had to say goodbye to our beautiful dog. Dr Smith was kind and compassionate and made it so easy for us every step of the way. Thank you Dr Smith for taking care of our Maggie. God bless you." Patricia N.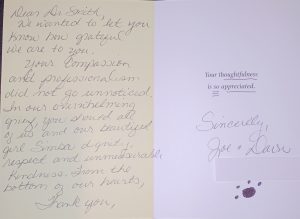 "Dr Smith was our saving grace during a most difficult time. We had to make the decision to put our beautiful 13 1/2 year old lab "Simba" to sleep. Dr Smith was so compassionate and treated our angel with dignity and respect. We would not hesitate to recommend her to your family and your beloved pet." Dawn E.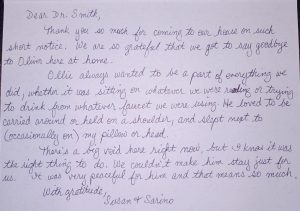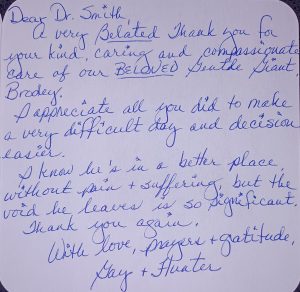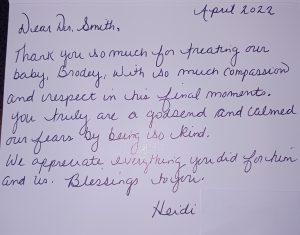 Two lovely cards from Brodey's family
"Dr Smith's compassion and caring made this difficult time a peaceful event. When the time comes that you have to make this decision for your loved pet, I highly recommend Dr Smith." Joe P.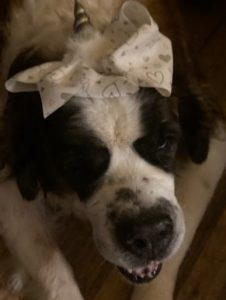 "Dr Smith was such a blessing to our family. Her warmth and gentle, competent manner allowed us to give our beloved Harley a peaceful and graceful transition from this life to the next. Losing a family member is incredibly hard. From our first conversation, Dr Smith helped to ease that burden. I cannot say enough about how grateful we are to her." The T. Family
"I could not speak more highly of Dr Robyn Smith from Journeys to Peace. She was so patient and understanding as we made the very difficult decision for our beloved dog, Olive. She was so responsive and supportive as we asked her many questions. She communicated frequently before our appointment to ensure that we were comfortable. Because of Dr Smith, Olive was able to leave this world in the comfort of her own backyard with dignity and grace." Jaime K.
"We publicly want to thank Dr Smith for her care for our kitty who was very ill. We appreciated her gentleness, kindness, and compassion which made this wrenching event easier. We both recognized that Dr Smith has a gift for end-of-life given with dignity and respect. We know our dear kitty is at peace. We are very grateful to Dr Smith and highly recommend her services." The B. Family
"What a blessing Dr Smith was to us at such a difficult time. We were out of town and had my in-laws staying with our 14 year old puppy Freckles when he just went downhill in a matter of 2 days! We spoke with Dr Smith and she went to our home later that same day and so kindly and peacefully helped our beloved dog cross over the Rainbow Bridge. My in-laws could not say enough kind words about Dr Smith and how she handled the situation and even when they forgot to take off his nameplate, Dr Smith kept it for us and delivered it to our home. She is so very kind and she made a terrible situation more bearable by being so. We are forever grateful." The B. Family
"At a most difficult time, Dr Smith offered and provided us with her gentle and calming expertise in helping to come to the right decision for our beautiful Pyrenees, Sadie. Though our hearts are broken, Sadie was home with us when she serenely crossed the rainbow bridge. Each part of the process was thoroughly explained and we were able to hold Sadie throughout. We are so grateful for Dr Smith's dedication to this hospice phase of pet life." The O. Family
from the Journeys to Peace Facebook page
"Dr Smith is the most kind and compassionate end-of-life practitioner I have ever met. Not only does she honor this process of passing on, but she honors the pet owner and holds us up in a way that cannot be expressed in words. I thank her for choosing this path, so pet owners can approach this time in their pet's lives without fear but with love and tenderness. There is no one else I would rather be with to walk this path helping my beloved animal to the other side, free from a body that is aged and ill to ultimate peace and freedom." Karen
from the Journeys to Peace Facebook page
"Dr Smith is a wonderful veterinarian and a kind human being.
My dear sweet Hunter took a drastic turn for the worse early Sunday morning – Super Bowl Sunday no less. He was diagnosed with lung and adrenal cancer in the Fall and was on comfort measures due to his advanced age. It was obvious this was his time and there was no way we would be able to get him to the emergency vet 20 minutes away without it being traumatic for him and us.
I called Journeys to Peace and left a message. She called me back promptly and we discussed what was happening. Even though it was snowing, she was at our house in an hour and a half! She was kind, caring, thoughtful, assessed Hunter and explained everything so clearly while giving us all potential options. Hunter was ready to go and we knew it was time. She explained the process and the next steps in detail so we were prepared, then gave us space as a family to say our goodbyes.
Everything was done professionally, kindly, and she thoroughly explained at each step what she was doing and how Hunter would feel. His face softened and the pain fell away from it; and our boy was made comfortable. He looked at us and knew he was surrounded by those who loved him best. He closed his eyes and crossed the rainbow bridge a few moments later.
Dr Smith was our angel that day. She brought a sense of calm and peace into a home fraught with sadness and despair. She really listened to us and her mannerisms made it feel like we knew her forever. She gave us space to feel it all and time to say goodbye, before and after. I highly recommend her services. She is amazing and she will help your fur baby to transition gently and peacefully, with dignity." Leone Y-C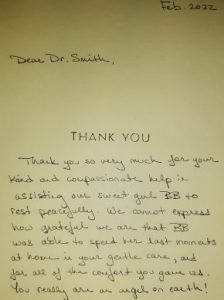 from the Journeys to Peace Facebook page
"Dr Smith made one of the worst imaginable days of our lives so much more tolerable. We got to the point where we had to say goodbye to our 15-year-old shepherd mix who had some serious health issues and was declining at a rapid pace. My wife and myself had discussed the decision for sometime and even put if off a couple times but ultimately wanted to have the procedure done at home instead of a vets office. Dr Smith was flexible and readily available to be there for us when the time was right. She even was able to reschedule her visit because we had some weather related issues as well as some emotional hesitation leading up to that day. On the day of the procedure we were all so tense and just waiting for her to show up was really putting everybody on edge to say the least. Upon arrival her calm demeanor set everybody at ease. She was able to explain the entire procedure to us in a way that not only did we understand what was going on but we felt as OK as we could possibly feel about the next stage. The goodbye was the most peaceful goodbye that I could wish for my girl. And it was the first time in a very long time where I got to see her at peace. I have been wanting to write this review for a couple weeks now but emotionally could not bring myself to do so. I cannot thank Dr Smith enough for the kindness and compassion that she has shown to our family and I would recommend her services to anybody who has to make that final decision. It was almost like having a veterinarian and grief counselor all in one shot. She did not baby us in the way she spoke to us from the initial consultation to the day of the procedure. Dr Smith you will forever hold a special place in our hearts, but with all do respect we hope to not have to see you on these terms for another 15 years or more!" Shiah B.
from the Journeys to Peace Facebook page
"Dr Smith was wonderful with our family. She is so kind and made such a difficult time easier for everyone. She even let Bailey say goodbye to her sister, Piggy. For that, I'm so appreciative. Thank you so much Dr Smith. You are an angel." Renee C.
"During a very difficult time for us, Journeys to Peace was there. On very short notice, Dr Smith was able to come help us with our Frankie Girl. I can't say enough about the professionalism and compassion that was given to us. Thank you Dr Smith." The C. Family
From the Greyhound Friends of New Jersey…
"Jeremy and Larry have made a donation to Greyhound Friends of NJ in your name. They said: Dr Smith has provided end-of-life care to two of our beloved grays – first Clare in August 2021, and then Eligia in January 2022. That's a lot to take in 5 months, and she provided magnificent care for all of us. We chose this donation to the Sugar Plum Memorial Fund as it aligns well with our senior grays and the message of thanks we want to convey to Dr Smith for helping us guide them to their place across the bridge."
"I can't possibly express enough, my gratitude to Dr. Smith! My 12 year old dog Chrissy had surgery in her mouth on October 25, 2021 for oral melanoma cancer. Her surgeon did a great job, but her cancer was very aggressive and came back with a vengeance! Within the past 6 weeks her cancer took over her nostril, that side of her beautiful face, inside her mouth and was heading to her eye and brain!! A nightmare for this little 10 pound chihuahua, and myself. Dr. Smith guided me through all of this with her compassion, understanding, expertise, and sensitivity. The tumor on Chrissy's face was bigger than her nose, with bleeding in her water bowl, blood all over her white coat….horrific! But she wasn't sick….the cancer was localized to her little face. She could still run, eat and drink, which made euthanizing her more difficult than my other dogs in the past, who were acting sick. But her breathing was being effected, and thank God Dr. Smith came to our home on Friday before the snowstorm!! I know she/we prevented a medical crisis for Chrissy. The roller coaster ride we just endured was awful, and I had postponed Chrissy's euthanasia 3 times, because the circumstances were SO CONFUSING! Dr. Smith was patient and understanding with all of my concerns, and reassured me she would continue to help me deal with something I never saw coming! She is an ANGEL in MY EYES, and Chrissy and I would have been lost without her….Chrissy passed peacefully in my arms. Thank you from the bottom of my heart Dr. Smith" Tammy (and Chrissy) F.
"I can't say enough here about Dr Smith but I will try to be short.
Dr Smith was so sympathetic and caring when she came to our home in Wall Township to end our dog, Remmie's pain and suffering.
She was especially Kind to our other dogs who were scared and protective of Remmie.
She was tender and compassionate with everyone involved.
I believe she was our angel in a very difficult time.
I truly want to say Thank you to such an extraordinary person." Laura R.
"I don't think it's hyperbole that saying your final good-byes to your beloved family member is excruciating under the best of circumstances. What's most unique about Dr. Smith is that, while giving all the space and care to have those intimate moments, she also loves listening to the many stories – the nick names, the silly habits, all the things we share in those moments to sum up the life we are celebrating. She remembers those moments too, long after the good-byes have been said. Dr. Smith has served us twice thus far, and we thank God for her care, her sensitivity, and her professionalism. There is no easy way to do these things, but there's a guaranteed way to do it lovingly and with impeccable grace, and that is with Dr. Smith." The B-G Family
"Dr. Smith: Thank you for coming to take care of Gunner with his final step in life. The experience was less traumatic then I thought/feared it would be. Your kind, caring and soothing voice and mannerisms and your ability to explain the whole procedure made this traumatic time less so… Thanks again." Bob O.
"There are not enough words to describe how wonderful Dr. Smith was during the last stage of our furbaby's life. Our little guy had an incident which led to his decline and during his last month, Dr. Smith was available to answer any questions we had to determine if this was "the time".
When the day came, which was a Sunday, she came to the house and was very accommodating in allowing us to pick his final resting place, which was in our laps, on the front porch (since he loved outside). The transition was incredibly peaceful and once it was complete she gave us all the time we needed to say our final goodbyes.
She then took our little boy to be cremated and was the point person with the crematorium in ordering jewelry with his ashes and she delivered him back to us along with his paw print and nose print.
As difficult as this stage of life is, Dr. Smith was a calming, reassuring presence that made this decision less difficult knowing he would leave us, in the comfort of his favorite spot." The P-M Family
"Dr. Smith was great – she is extremely kind and comforting and she made sure my family and I were ready and comfortable. She brought so much dignity and comfort to our dog crossing the rainbow bridge – I would definitely recommend using Dr. Smith. Thank you for making this experience as easy as possible." The P. Family
"Dr. Smith is an incredible human and doctor with a deep capacity for empathy and kindness and sincerity. I could not imagine saying goodbye to our Lucy without her. She gave us all the gift of dignity and beautiful closure that is beyond words. We will be forever grateful." The F. Family
"Dear Dr. Smith,
Thank you so much for your compassionate care for our Stella in her last hour. Your comforting words and skillful care made a difficult situation somewhat more tolerable. We can never repay you for the wonderful gift you gave Stella and us.
With Love and Appreciation,
The D. Family"
"It's taken me 2 months to be emotionally stable enough to write about my experience with Dr. Smith.
My cat Egor was special. I've lived in a multi cat household since I was a child, and anyone with that experience knows some cats stand out more than others.
I contacted Dr. Smith as soon as I found out his diagnosis was possibly terminal. She responded quickly and kindly to every silly worried cat mom text I had while I watched him battle cancer.
The day Egor finally needed Dr. Smith's help I had a panic attack when I saw her walking to the door. That stopped as soon as she walked inside. Dr. Smith projects an aura of calm and peace that's hard to explain. She made a devastating situation handleable and I'll be forever thankful for how she helped us.
Thank you for giving Egor a peaceful and dignified end." Krystal M.
"My Chesapeake Bay Retriever was 15 years old when I finally had to make the call to Dr. Smith. In my heart I knew it was the right thing to do, however for selfish reasons I couldn't come to terms with having to say my last "good bye buddy" and "I love you so much!" Dr. Smith's energy, spirituality, aura, and her calmness put my nerves at ease. The positive energy and Compassion that she brings just encompasses you. It takes a "special" person to do what she does. Dr. Smith does it with grace, dignity, morals and ethics. She made the "final" transition as best as one could on the most dreadful day. And for that I am truly grateful.
Thank you Dr. Smith" Christina D.
"Dr. Smith was so warm, professional & comforting at this traumatic time. Her process assisted me to give a final gift to my best boy. I would highly recommend her to everyone." Susan S.